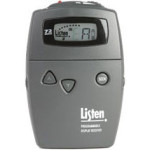 One of Listen's most sophisticated receivers, the LR-500 Programmable Display Receiver offers the signature Look&ListenTM LCD Display that shows programming status, channel, lock, battery level, and RF signal strength. Channel selector buttons are easily accessible on the front of the unit. It has channel SEEK capability.
Features:
Great for organizations conducting multiple tours or simultaneous language interpretation.
Superior Audio Quality – 70 dB signal-to-noise ratio (SNR), setting the industry's sound quality standard.
Easy to use and manage inventory
A choice between 17 channels
Look & Listen™ LCD shows channel, battery status, signal strength and programming information.
100% Digital – Listen receivers are digitally-tuned so transmission won't drift.